back to property
Gatwick Airport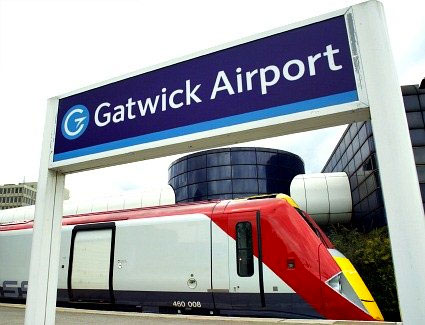 It serves more than 200 destinations in 90 countries for more than 40 million passengers a year on short and long-haul point-to-point services. It is also a major economic driver for the South East region, generating around 21,000 on-airport jobs and a further 10,000 jobs through related activities. The airport is south of Central London with excellent public transport links, including the Gatwick Express, and is part of the Oyster contactless payment network. Gatwick Airport is owned by a group of international investment funds, of which Global Infrastructure Partners is the largest shareholder. The Government has indicated it will make a decision this year on whether Gatwick airport should be expanded. Gatwick's second runway will deliver the UK the same number of passengers, the same number of long haul routes, better UK and regional connections, and the economic boost the UK needs, all at a dramatically lower environmental impact, at less than half the cost of Heathrow, and with no public subsidy.
Other Facts
- 41 million passengers by 2030 set to increase to 44 million by 2050
- Only 24,000 long stay car park spaces at London Gatwick airport
- 532,000 passengers using off airport Gatwick parking every year
- Car parking company has been established for over 10 years
- £2 billion refurbishment underway at Gatwick airport
- 25% rise in capital from day one
Crawley, Gatwick in West Sussex was the only place in London to make the top 10, with prices there rising by 22.4 per cent over the last year.
Read more: http://www.dailymail.co.uk/news/article-2888340/Best-places-live-UK-property-increase-value-worst.html#ixzz462UESZIe
March 2016 - issued 11 April 2016
Gatwick's long summer of long-haul takes off as airport celebrates three years of consecutive growth 3.1 million passengers travelled through Gatwick in March, +5.8% year on year, marking three years of consecutive month on month growth
Norwegian's Boston route kicks off Gatwick's summer of long-haul with 20 new routes including Hong Kong, Cape Town, Vancouver, Lima and Costa Rica
Gatwick CEO Stewart Wingate said:"Three years of consecutive month on month growth shows Gatwick continues to provide what our passengers want - more choice and better value to a greater range of destinations….An expanded Gatwick would build on this momentum and deliver yet more competition and choice for passengers - only last month Norwegian pledged 50 Dreamliners to a two-runway Gatwick which would transform the UK long-haul market."
Source Gatwick Airport
London Gatwick Property Boom
Property boom set to continue till 2019
Sussex will be among the areas to show the strongest property price growth between now and 2019 as buyers look for value outside the capital.
Estate agent Savills said London house prices will flatline in 2015 and will grow at half the rate of those across the country generally for the next five years.
But as prices continue to head upwards, the firm also predicts that the number of households which are privately renting in England and Wales will surge by 1.2 million over the next five years as the struggle for younger generations to get on the housing ladder continues. Savills forecasts that UK house prices will increase by around 19.3% by the end of 2019 to reach £225,250 on average, which is around £36,500 more than the current typical property value.
But values in London will only see 10.4% growth across the five-year period, with prices in the capital already having jumped by around 15% this year alone, it predicts.
This prediction would mean the average London house price increased to £442,783 by the end of 2019, which is around £41,700 more than it is now.
Savills has pencilled in 0% growth for property prices in London across 2015.
Prices should then start to lift there again from 2016 onwards, it said.
By contrast, the South East will see prices jump by 26.4% over the coming five years, taking the average property value to £296,244, according to the forecast.
Savills said the London market would take a pause next year as it now looked "relatively fully valued" and surging prices had already prompted a change in buyer sentiment.
It said prices would increase at a faster pace in the surrounding southern regions "as buyers priced out of London seek relative value beyond the capital".
The research was made using house price figures from Nationwide Building Society as a base. Savills also predicts that tougher mortgage regulation and an "acute housing shortage" will mean the number of private rented households in England and Wales swells by 1.2 million over the next five years. It predicts that by the end of 2019, only 16% of people aged under 35 will be homeowners, compared with 28% now.
| | | | | | |
| --- | --- | --- | --- | --- | --- |
| TOP TEN WINNERS | AVERAGE | % | TOP TEN LOSERS | AVERAGE | % |
| GREENWICH | £328,044 | 24.60 | BURY | £140,376 | -4.80 |
| EALING | £455,543 | 24.50 | KEIGHLEY | £131,403 | -4.40 |
| CRAWLEY, LONDON GATWICK | £267,925 | 22.40 | NUNEATON | £146,487 | -3.20 |
| TOWER HAMLETS | £424,163 | 22.00 | NEWPORT | £129,692 | -2.90 |
| KINGSTON UPON THAMES | £460,853 | 21.40 | STOKE-ON-TRENT | £124,232 | -2.60 |
| SUTTON | £326,565 | 20.70 | ST HELENS | £119,851 | -2.60 |
| WALTHAM FOREST | £331,080 | 20.40 | LIVINGSTON | £142,732 | -2.40 |
| BRENT | £443,902 | 20.10 | PRESTON | £151,071 | -2.00 |
| SOUTHWARK | £450,277 | 19.80 | ROCHDALE | £115,560 | -0.90 |
| HACKNEY | £467,945 | 19.60 | DURHAM | £137,188 | -0.60 |
Read more: http://www.dailymail.co.uk/news/article-2888340/Best-places-live-UK-property-increase-value-worst.html#ixzz462TdEZS8
London Average House Prices: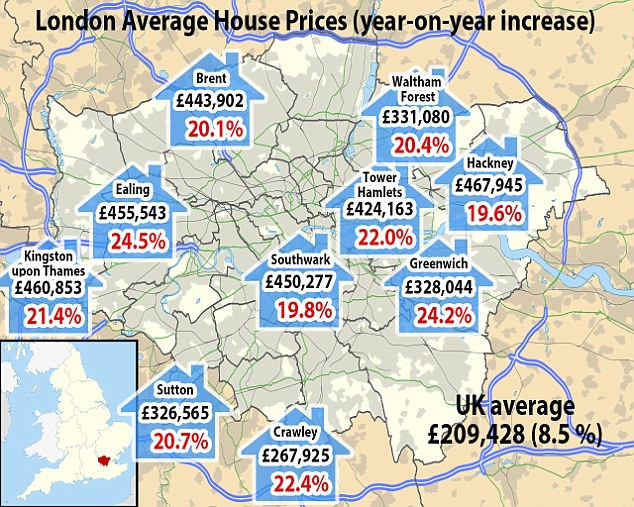 http://www.theguardian.com/money/2016/jan/23/britain-property-boom-losers-winners-housing-market-renting
Nearly two thirds of London councillors support Gatwick expansion poll shows just weeks before the election
Overwhelming support for Gatwick expansion from London councillors London residents continue to choose Gatwick over Heathrow
Source Gatwick Airport - 13/04/2016
Duty Free Brands available at Gatwick; Plenty of Resturants for 3.1 million passengers that pass through Gatwick Tourist attractions –all information on the link below
back to property