In 2014, the UK economy grew at a faster rate than any other major advanced economy and recorded its best performance since 2007 UK experienced the strongest rate of growth amongst all developed countries in 2014, up 2.8% on the previous year. This was driven by strong consumer spending. The drop in the oil price kept inflation at a record low, and boosted both consumer and business confidence, resulting in reduced unemployment and wage growth. As a result of this overall economic optimism, hotels in the UK experienced a stellar 2014. Bucking the trend of last year, regional hotels outperformed their London counterparts. Rooms yield for hotels in the regions experienced double digit growth. As demand for hotels remained strong, hoteliers succeeded in pushing AARR up and resulting in regional hotels experiencing a higher compound annual growth rate over the last five years when compared to the capital. However, London hotels did not stand still. Despite the significant 4% increase in supply, occupancy remained robust, confirming the importance of the hotel sector in the capital, where hotel's occupancy is one of the highest across Europe.
The health of the UK hotel sector is confirmed by the increase in transactional activity, which reached £6.1bn in 2014, the highest figure since 2006. There has been a rush into regional transactions, where hotels have sold above the asking price last year.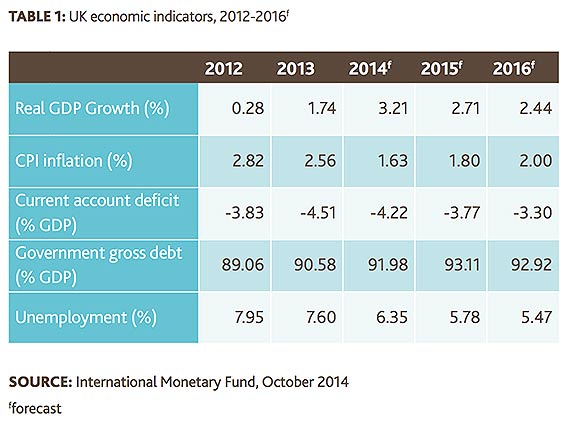 International visitor numbers grew for the fourth consecutive year in 2014. Visitors increased by 5.8% to 34.8m, an all time high. Overall, the holiday segment remained the main driver of growth, up 7.7%, accounting for almost two-fifths of the total. According to the UK Civil Aviation Authority (CAA), UK airports experienced another year of strong growth with passenger numbers up 4.4% to 238.4m in 2014, the fourth year of growth. The growth in passengers was distributed fairly evenly between London (up 4.9% to 145.5m) and regional UK (up 3.5% to 92.8m). Excluding London airports, England was the best performing region for passenger traffic, up 4% to 60.8m.
Nevertheless, 2014 saw 17.8 million overseas visits to London, up 5.8% from the previous record of 16.8 million, and more are expected this year.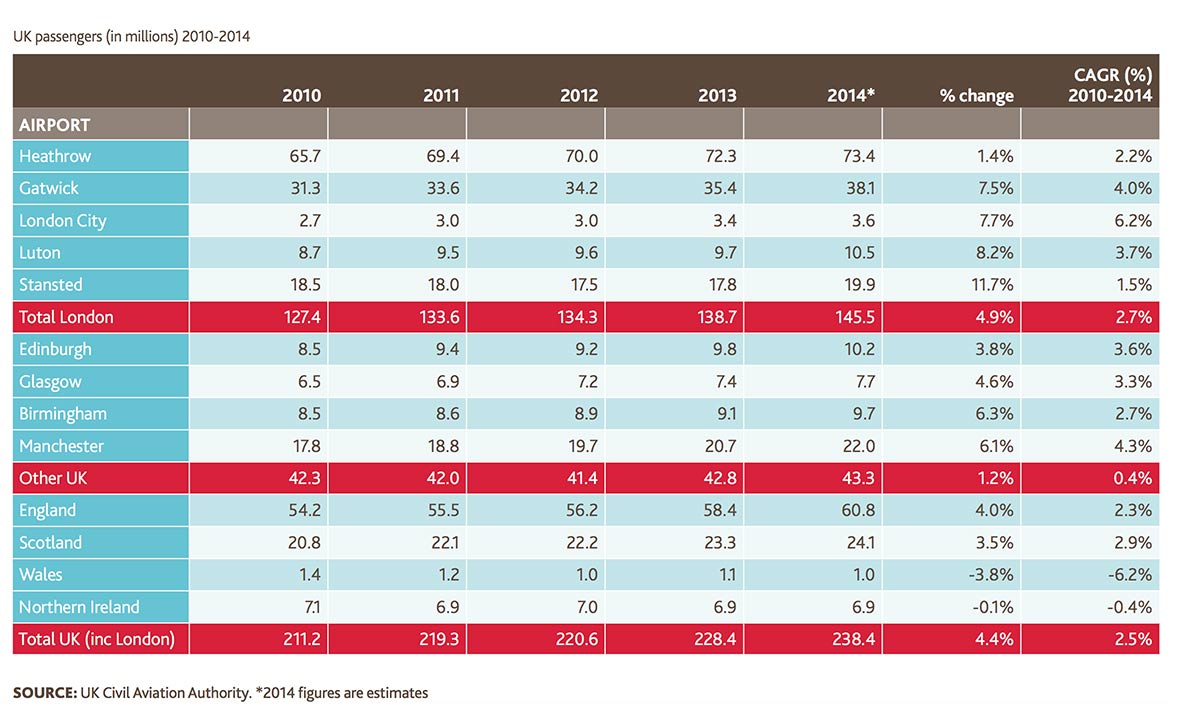 The UK hotel transaction market continued in an upward direction, building on the gains made in 2013. Reports showed that in 2014 the total of commercial real estate investment in the UK amounted to £65bn.
This was 3% higher than the 2006 peak, as well as 13% higher than the 2013 figure. During the same year, hotel deals accounted for about 10% of the total, with reports showing that the total transaction value for UK hotels in 2014 was £6.1bn, the highest since 2006. The majority of transactions, i.e. about two-thirds of the total, were of single assets. Last year there was notable activity in the midscale/ budget end of the market. This was evidenced by purchases made of 25 Holiday Inn hotels in four different transactions, as well as the sale of 144 Travelodges bought for an estimated £520m. In addition, Lone Star and Somerston Capital bought twelve Holiday Inn Express hotels across the UK. The average transaction value in 2014 was £66m, up 30.6% from the previous year

The comparison of price per room for transactions in London and the regions in 2014 have grown. It is interesting to note that the average price per room in the regional UK was up by 30% when compared to the previous year. The median price was also up by about 14%.
London continues to experience high development activity, with the same number of new rooms added in the capital (5,240) as in the other regions (5,288). Hotel rooms are increasingly becoming an extension of mobile phones and other technology. Following the introduction of i-Pads to control room temperature and lighting and mobile key technology, there is a clear demand for techno-savvy hotel rooms. Smart TV, interactive tourism guides, and improved Wi-Fi connectivity are only some of the new improvements introduced by hotels. The latest example is the refurbishment of the Express by Holiday Inn concept which will be rolled out in Europe during the next three years.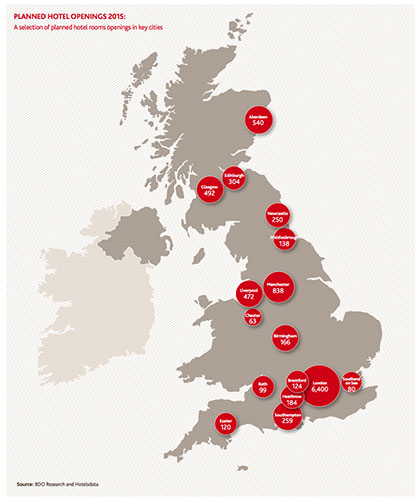 PLANNED HOTEL OPENINGS 2015
UK hotels continue to benefit from the improving economic and travel backdrop. So far in 2015, the pace of growth has been variable in London but dynamic in the Provinces, driving a bumper year in the investment market UK hotels forecast predicts that UK hotels will continue to see further RevPAR growth in 2015 and 2016, with the strongest growth forecast for the Provinces (4.2%) rather than London (2.3%) which already operates at a very high level.
PWC's 2015 UK hotels forecast Growth beds in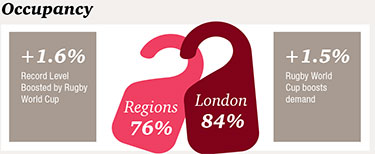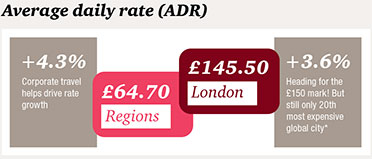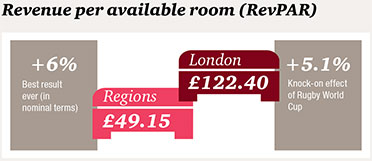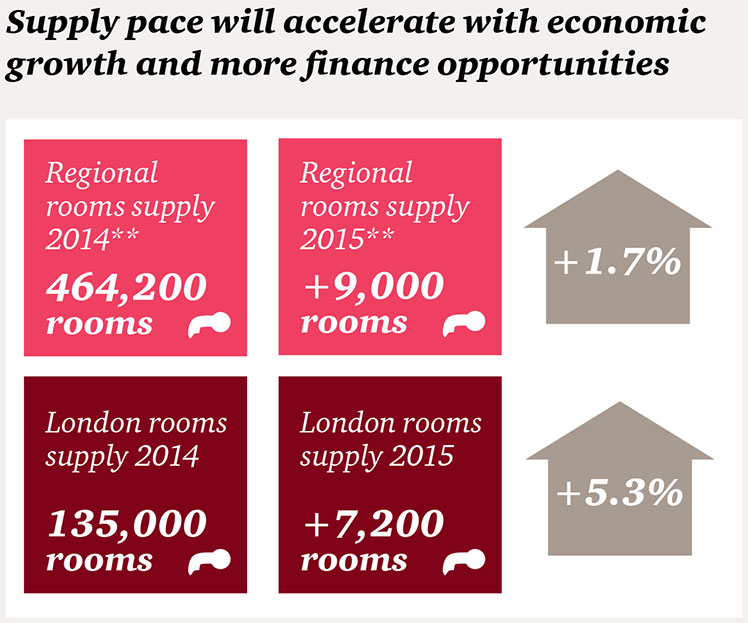 The UK economy continues to perform robustly and we expect this to carry on in 2015 and 2016. It grew by 3% in 2014 as a whole, the fastest rate since 2006 and the strongest of any G7 country. We expect UK GDP growth to average around 2.6% in 2015, which could again be the fastest in the G7, before easing slightly to around 2.4% in 2016. UK growth continues to be driven primarily by services, with manufacturing and construction growth.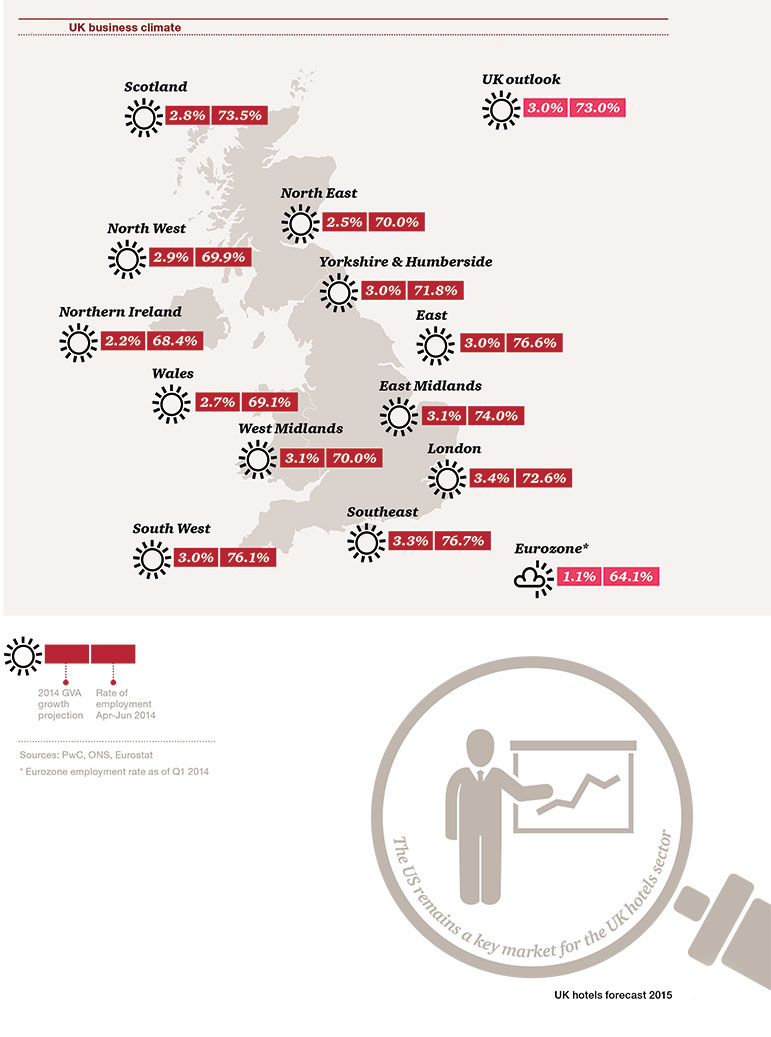 London and the South East continue to lead the recovery, with a growth of around 3% in 2015, but all other UK regions should also register positive real growth of around 1.8–2.5% in 2015. Our estimates for 2015 range from 2.0% growth in the North East to 3.1% in London, while projected regional growth in 2014 ranges from around 2.0% to around 2.9%.
In general, demand continues to outpace supply growth but supply continues to increase and above average growth is expected in 2016 – in total there are around 38,000 rooms in the active pipeline. The proportion of branded budget rooms in the active pipeline, including in London, remains high and investors continue to focus on this dynamic sector. While oversupply is a local issue the increases will impact some segments and locations. At the same time, the increase in alternative accommodation such as serviced apartments, hostels, and shared spaces continue to grow.
London occupancies have averaged 80% or above since 2006 and our annual forecast for 84% this year and next would be the highest this decade and looking back further, the highest since the mid-1990s when supply was far lower and particularly budget hotels were less prevalent in London.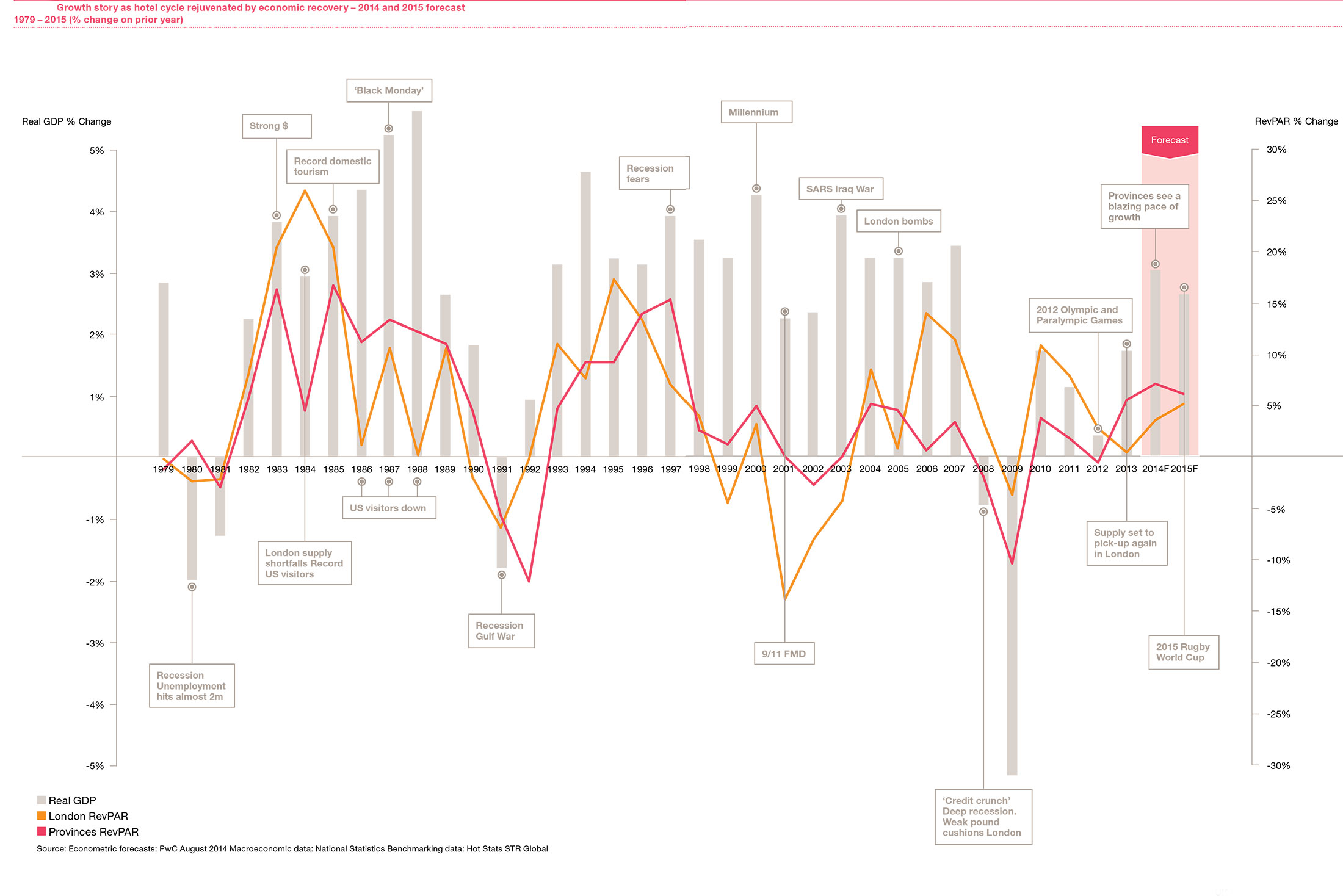 UK room supply has grown significantly over the years and while the sector remains fragmented there have been significant structural changes over the last 20 years that have accelerated more recently. These include a continuing shift towards more branded hotels of the total market
"£10bn in deals; 2015 is set to be a record year for deals volume at £10 billion GBP"
What to expect for 2016?
So what does 2016 have in store? There are a number of possible transactions currently rumoured in the market including the sale of Travelodge and Lone Star's Amaris group. So with some major transactions a possibility in 2016, we forecast total deal volume to remain above previous peaks with continued activity in the regional portfolio market in particular. It remains to be seen, however, the impact of the recently announced National Living Wage on both deal values and future deal supply, as a result of potentially significant increases to current hotel payroll costs. Overseas investor demand remains particularly strong for prime London assets which offer reasonable returns for relatively low risk; however, we have also seen an increase in overseas demand for assets outside of central London as market performance improves and investors look to achieve greater returns on investments.